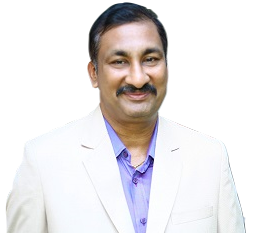 Dr. J.Lakshmi Narayana
M.Tech., PhD., LMISTE.,MIETE.,MIEEE., Principal
About The Principal:
Dr. Jammula Lakshmi Narayana obtained A.M.I.E.T.E in Electronics and Telecommunication Engineering, Delhi 1999;
Master of Technology (Communication & Radar Systems) from Koneru Lakshmaiah College of Engineering affiliated to Acharya Nagarjuna University in 2004
Doctor of Philosophy in the faculty of Electronics Communication Engineering from JNTUH, Hyderabad in 2013.
He has 20 years of teaching experience at various affiliated & Autonomous institutions as Professor & Head of the Department.
He has to his credit of publishing around 30 Research at National & International Conferences and Journals.
He also guided 45 Research Projects for B. Tech & M. Tech Graduates. He attended around 15 workshops in various concepts related Electronics and Telecommunication Engineering.
He is the Member various Professional bodies like MIEEE; MIETE; MISTE.